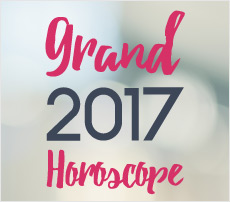 Sagittarus (November 23rd - December 21st)

There will be a number of great successes in 2017 for Sagittarius'. In your social and professional lives you'll take over the management of a large quantity of projects and on several occasions you'll earn respect from those you're working with due to your strong leadership skills. It will be impossible to keep your love life a secret - your happy relationship will make you want to scream from the rooftops with joy.
Click Here
Find The Answers That You Seek and Move Forward on Your Path
with Trusted Guidance!
Love and Relationships - Even when you're incredibly busy and caught up in life's dramas you always find time for the friends of yours who value you. In 2017 you'll come to the decision not to waste time on those people who do not deserve it. You'll choose to cut certain people in order to avoid problems, sadness and be able to spend more time with your real friends.
Work - You'll go through 2017 with a happiness and optimism that is a key to your success and means that when you do get put down, you're able to keep going without feeling demoralized. Nothing can harm you this year, your success will multiply and this is directly because of your hard work. It must be said that you like to be surrounded by harmony and you're always looking for a middle ground.
Well Being - Although physically and intellectually you'll go through periods of intense tiredness, your morale will always win over and bring you back up when you're down. You always succeed in finding inner harmony, no matter what may be going on in your life. When your body is suffering and just wants to stay in bed and mope around, you have the strength and ability to stop this behavior and revitalize yourself. You're lucky as most people are unable to do this.