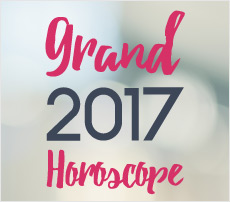 Cancer (June 22nd - July 22nd)

The year 2017 will start and finish well for you. Your work and love life will bring you lots of happiness. The middle of the year may be a little less satisfying for you as you'll have to grit your teeth and bear it through several circumstances, difficult periods in your relationship and feeling like you want more from your work. Despite this you keep on going and know how to pick yourself up. Nothing can hold back your morale and good mood for too long!
Click Here
Find The Answers That You Seek and Move Forward on Your Path
with Trusted Guidance!
Love and Relationships - This year you'll rely on the support of your friends. Certain months will be more difficult than others and when there are worries at work or in love you'll need your friends to hand so you can lean on them. You should expect to do the same for them too. Your friends are your rock but at the same time you can be silly with them during evenings at the dinner table or with a glass of wine. If you're single, expect one of your friends to make a declaration of love this year…

Work - January may start off looking bright but expect some recurring difficulties to keep popping up until spring. After this difficult spell you can expect your smile to return throughout summer and the second half of the year. This year will be fulfilling for you and you'll pass it with a quiet confidence in both your mind and your body.
Well Being - What is really noticeable in your horoscope is the amazing energy that you'll have through this year. Very things will be able to get under your skin this year. Tired spells, depressive periods and minor illnesses will not be knocking on your door this year. The worst thing you'll have to worry about this year is your sweet tooth taking over a little and you gaining a few pounds. Other than that you're in the best shape you've ever been; happy, bright and beautiful! You know how to take care of yourself and keep your morale high.