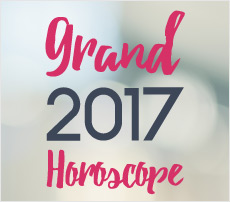 Aries (March 21st - April 19th)

2017 will be a great year of improvement for you. The stars will pull you up and above what you thought you were capable of, you'll progress and make a conscious decision to step up your game with things you're good at. This will give your self-confidence a boost and therefore you'll be willing to put yourself in the spotlight more frequently. Be cautious of your fiery temperament, losing control of your emotions could cause problems for you further along the line.
Click Here
Find The Answers That You Seek and Move Forward on Your Path
with Trusted Guidance!
Love and Friendship - You love to be surrounded by friends so you are already very excited for summer so you can go on holidays with your friends and New Year celebrations where you can have everyone you love around one table. You're lucky to have such a great group of friends who don't judge you and who understand you and your personality that can be a little aggressive and authoritative. Your friends love you as you are!
Work - You're always involved in the action thanks to your dynamic personality. Your explosive temperament can often make you impatient but you always finish up with things exactly as you want them. Your only problem? Consistency! Because of your personality you find yourself in arguments and this could mean you risk everything. Think of perspective before you jump in and confront someone, this is our 2017 top tip.
Well Being - Throughout the year, you fluctuate between feeling amazing and feeling lethargic but you generally stay on course. You have excellent mental health for when you're faced with little conflicts, and you always find the way to put things into perspective. That's your biggest strength this year, take care of your mental health. Above all, don't let stress interfere with your daily life: as soon as you feel pressure mounting, run to get some fresh air. It's up to you to transform stress into determination to win!